Advertisement
A Perth entrepreneur has created Australia's first "Uber for pets", a rideshare service dedicated exclusively to taking the family's companion to the groomer, the airport, and the vet.
Animal lover Terry Butts came up with the idea of offering pet owners an A-grade transport service after seeing a St Bernard crammed in the front seat of a tiny Toyota Camry.
"It got me thinking, our furry friends need us to go the extra mile when it comes to transport and the existing services out there just don't cut it," Mr Butts said.
"Pets are our most cherished family members and the current rideshare players treat them as an afterthought or ignore them altogether."
Advertisement
More than three years later, Mr Butts is set to launch Pawba, a pet rideshare app, due to hit Australia's six major cities in March.
Loading
Mr Butts has teamed up with Joondalup software developer Redi Apps to create the platform, which will operate similarly to services like Uber, Ola, and Didi, to allow pet owners in Perth, Sydney, Melbourne, Canberra, Brisbane, and Adelaide to book trips with their furry companions on-demand.
The app will also offer a premium service, Pawba Plus, staffed with experienced drivers, such as retired vet nurses, for owners looking to transport their pets unaccompanied.
The announcement comes 2½ months after rideshare giant Uber announced the roll-out of a new pet feature nationwide following a trial in Sydney and Brisbane.
But Mr Butts, who currently runs a successful animal transport business in WA, Perth Pet Taxis, is adamant Pawba will snatch a fair share of the market pie.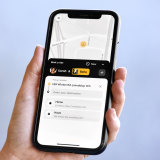 The entrepreneur plans to recruit 500 drivers before the app officially launches next year, and anticipates a take-up of 7000 drivers in the first six months. All will undergo strict vetting.
"The current options for ridesharing pet transport do not include mandatory restraints for your pets, and that right there should be a major red flag for any pet lover," he said.
"They can even refuse to carry you and your pet, even if they have already accepted your fare. Furthermore, they do not offer an unaccompanied pet service."
Mr Butts said Pawba would stand out from the pack by offering mandatory restraints, pet mats on seats, and strictly vetted drivers with a knack for animal handling.
Although the app will mean bringing Perth Pet Taxis to an end, Mr Butts said he was confident it was the right step in his quest to give pet owners back their independence.
"There's so many people that would love to go out for a barbecue but they can't get home with their pet if they've had a couple of wines," he said.
"We will now be able to take them to the barbecue and pick them up."
Pawba is currently running an equity crowdsourcing campaign offering up to $500,000 in shares ahead of the platform's launch in March 2021.
Marta is an award-winning photographer and journalist with a focus on social justice issues and local government.
LoadingOriginal Article